| | | |
| --- | --- | --- |
| Penrith Panthers | | 12 |
| St. Helens | | 13 |
| DATE | COMPETITION | VENUE | ATTENDANCE | (HT) |
| --- | --- | --- | --- | --- |
| 18th Feb 2023 | World Club Challenge Final | AWAY | 13837 | (HT:0:10) |
MATCH NOTES : The Saints pull off a fantastic performance to become World Club Champions for the third time in their history.

Due to the inclement weather conditions, the teams agreed to field an extra substitute. James Bell was the 18th man for the Saints. The match was played in the climatic context of torrential rain, thunder and lightning.
Age in brackets is at time of match - Total average age for this team is 0 - ** non-playing sub
COACH : Paul Wellens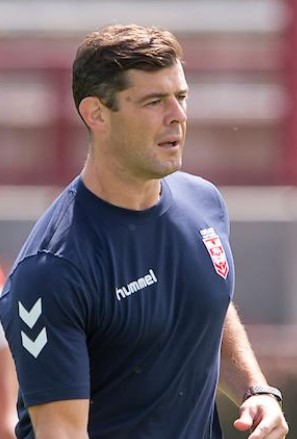 (2022-10-05 : 2023-12-31 )

MATCH REPORT : Match Report and Analysis by the critically acclaimed, Stephen Orford.

Sometimes it's a pleasure to be wrong.

Regular visitors my website would have seen in my preview of the World Club Challenge that I feared the worst. Having seen the squads, weighed up the relative strengths of each, considered the location of the match and the gulf that still exists between the NRL and Super League, I concluded that it would be a success for Saints if they could stay within two scores of the Penrith Panthers on their own patch. It was a lack of faith and ambition that would make the Everton board of directors blush.

Saints 13-12 golden point victory over the back-to-back NRL premiers gave them their third world title and their first on Australian soil. They are only the second English club to win the title down under after Wigan defeated Brisbane Broncos all the way back in 1994. And it was no fluke. It was among the better performances from a Saints side arguably in history. A perfect blend of enterprising rugby league in attack – without veering towards the recklessness that the likes of me would happily watch without having to win trophies – and solid, dominant defence. In his first competitive game in charge of his home town club – the club he represented with such distinction for 17 years – Paul Wellens led his side to a world championship and rugby league immortality.

Saints made only two changes from the side which had beaten St George-Illawarra Dragons in somewhat less impressive circumstances a week ago. England international back rower Joe Batchelor was unfortunate to get injured in that clash. He will be monitored in the coming days and weeks to determine when he can return to action but for this one his place in the side went to former Manly Sea Eagle Curtis Sironen. The other change saw Morgan Knowles return from the illness that kept him out of the Dragons game. He replaced James Bell at loose forward although the Scottish international would still see some action with both sides able to name 18 players.

There had been much talk in the build-up about the weather and how it would affect Saints. We are just past the peak of the Australian summer and temperatures are extremely high compared to what those of us on this rainy little island are used to. However, when kick-off came around it was not extreme heat but torrential rain and the threat of severe lightning which provided the biggest meteorological headache for the players. So severe were the bolts of lightning around Penrith's Blue Bet Stadium that the half-time break was extended to 20 minutes on safety grounds.

That came after a first 40 minutes for the ages from Saints. They were dominant in the first 20 minutes against a Panthers side containing 11 of the 17 players who featured in their NRL Grand Final victory over South Sydney Rabbitohs in September. Three of that squad have moved on to other clubs while another three are out injured. Make no mistake about it, this was about as strong a side as Panthers coach Ivan Cleary could have fielded. For Saints, Batchelor and Jon Bennison were the only members of the 17 who played in their Grand Final win over Leeds Rhinos to miss out here.

Saints started quickly, testing the Panthers defence almost from the first whistle. Lewis Dodd was playing in his first competitive game since his 2022 season was ruined by injury during the Good Friday derby back in April, He showed throughout why there is so much excitement in St Helens and beyond about his talents. He would end the night a hero, etched into folklore. His first contribution was to force opposite number and much feared Australian World Cup-winning halfback Nathan Cleary into throwing a desperate boot at a grubber close to the Panthers line.

It looped out of play giving Saints another set. That ended with James Roby having his attempted dab towards the in-goal smothered by the defence. Yet Saints had served notice. They were not in town just to enjoy some winter sun, take their beating and go home like far too many English club and international sides before them.

That early scare sprung the Panthers into action. Good handling from Jarome Luai and Izack Tago got Taylan May away down the left. Just when it looked like he was down the winger jumped back up untouched, making 50 metres before Will Hopoate put an end to the threat. He was able to effect a brilliant pick-up to snuff out the danger as he moved forward on to a searching grubber from Cleary.

It seemed like Welsby was involved in everything for much of the night. After slowing down May's progress in that attack he turned up on the opposite wing moments later to push metre-eating Samoan superstar Brian To'o into touch before he could sneak in at the corner. Welsby's challenge may have been a bit high but there was no call from former Super League referee and occasional Dali Bar patron Ashley Klein. There is a joke in there about desperate boots and Dali Bar but That Saints Blog is above such things. Anyway, is Dali Bar still a thing?

Back to the rugby, where Welsby then switched his focus to attack as Saints opened the scoring in spectacular style. Roby emerged from dummy half deep in his own territory before handing on to Lomax. The stand-off drew the attention of the defence and slipped it out to Curtis Sironen who burst through the gap. The former Manly back rower kept his composure and - spotting Welsby supporting on his inside - released the pass just in time to avoid throwing it forward. Once Welsby received the pass the sound of the gate shutting was almost audible. He streaked over with the exuberance of youth, finding time to celebrate the try long before he had dotted it down. Eight minutes in and with Tommy Makinson's conversion Saints led 6-0.

I'm not sure if it is a sign of things to come or something which Wellens came up with just for this game but Roby played long minutes in this one. Understudy Joey Lussick was left on the bench for the first 70 minutes as the 37 year-old Saints skipper just kept going and going. Roby even returned when the game went into its extra period. It will be interesting to see if Wellens leaves his former team-mate out there for as long in big, close games throughout the season or whether he will revert to the more careful approach favoured by Kristian Woolf.

Following his try Welsby had to be at his best defensively once more as the Panthers enjoyed the kind of spell you'd expect from the NRL's finest. Alex Walmsley - who to that point had been a standout for Saints - came up with an error as he played the ball. A creaking Saints defence gave up two set restarts in quick succession before Cleary found space close to the line. He burrowed low in an attempt to slide over but he reckoned without the possessed determination of Welsby.

The fullback met Cleary just in time to bring him down short of the line. Still Cleary attempted to reach out and force the ball but he was thwarted by the efforts of Knowles just doing Knowles things. The loose forward excels at doing the dirty, painful jobs that nobody else really wants to. That appetite for hard yakka was in evidence here as he desperately grappled with Cleary and managed to punch the ball from his grasp.

A few minutes later Saints were able to stretch the lead. A mistake by Luke Garner - newly arrived from Wests Tigers to step into the shoes of back rower Viliame Kikau - gave Saints possession 30 metres out. In the ensuing set they went right through Welsby to Konrad Hurrell who sliced between Isaah Yeo and May with embarrassing ease. Hurrell touched down for Saints second try of the night. Although on this occasion it couldn't be improved by Makinson Saints nevertheless found themselves with a double digit lead barely 15 minutes into the contest. I am sure I wasn't the only one who had not seen this coming at this stage.

Welsby carved out another half chance soon after but his pass to Percival proved to be just about the only thing that was too hot to handle for the centre on the night. It was perfectly timed by Welsby but had just a little bit too much sauce on it for Percival to gather. Had he done so he would have been through a gap close to the line and surely in for a score which could have potentially killed off Penrith hopes with an hour left to play.

Instead a Hopoate error gifted the Panthers an opportunity soon after. Although Saints' defence held out brilliantly as they did for most of the night, they paid a price for their efforts. Makinson put in a typically enthusiastic shot on Tago but suffered a head injury in the process. Despite his furious remonstrations with the medical staff the England winger was off for a head injury assessment (HIA) from which he would not return and which will - given the 11-day rule around concussion protocols - keep him out of Saints Super League opener at Castleford which took place on Sunday, February 26th.

The pressure from the Panthers intensified. Dodd was forced to concede a goal-line dropout, executing a perfect half volley into the fans behind the posts to avert the danger from another testing Cleary kick. It was Welsby who covered the next one before he came up with another big defensive effort to stop May. The Panthers winger made huge ground down the left touchline but Welsby was there to slow him down before Lomax finished him off.

May left the scene just after the half hour mark. He will now miss the whole of the NRL season to come after suffering an ACL injury. At almost the same time Panthers hooker Mitch Kenny was taken from the field for an HIA. Players seemed to be dropping like the proverbial in what was an intense, physically bruising encounter.

May's injury owed something to the presence of Agnatius Paasi in the tackle as third man. His leg seemed to buckle as Paasi rushed in to help bring the Panthers man to ground. Not to suggest there was any malice in the challenge but the game's authorities really ought to do something about the kind of third man in rubbish that is all too common in the modern game. Very often it is unnecessary stat padding in any case. It has to go, somehow. On this occasion Klein was apparently fine with it and didn't even penalise it.

Louie McCarthy-Scarsbrook (repeatedly referred to as Scarsbrook-McCarthy by apparently the greatest broadcaster who ever lived Andrew Voss) was next to require a check of his faculties along with Zac Hosking of the Panthers. The first half was certainly taking a toll. Yet Saints had held Penrith scoreless thanks to that dominant opening 20 minutes and some heroic defence in the second 20. They could have made their position even stronger but spurned the final chance when - having forced a goal-line dropout when Stephen Crichton covered a Dodd dab - Saints allowed Cleary to find touch from the restart with a low grass-cutter.

It just so happened that the period of time deemed most dangerous owing to the stormy weather coincided with the half-time break. The players were held in the sheds five minutes or so longer than would normally be the case but that seemed preferable to restarting and then having to stop again. That had been the fear throughout the first 40.

This wasn't the first time that severe weather had been part of a World Club Challenge game involving Saints. A snow blizzard played a significant part in the 2001 victory over Brisbane Broncos at what is now hilariously called the Toughsheet Stadium in Bolton.

That seemed to go in Saints favour as the Broncos literally and metaphorically froze. I'm not sure the deluge and the rude interruption for lightning bolts particularly favoured Wellens' men. Sydney may be hot but the Panthers players are unlikely to be strangers to a waterproof poncho. If anything it gave Penrith a bit more time to regroup after what had been a difficult first half for them. Much more difficult than my preview had anticipated, and far, far more difficult than your average Australian NRL fan on Twitter was expecting.

Still, at 10-0 I wasn't feeling all that secure with a whole 40 minutes to play. Despite that early dominance Saints hadn't posted enough points to feel safe. Especially since the Panthers had been coming much more into the game as the first half wore on. It was vital then that Saints managed to edge out a little further early in the second half. Just two minutes had gone by when Cleary went in late on Lomax in a very kickable position.

The problem was that Makinson - who has taken over the goal-kicking duties from Dodd since the halfback's injury - had long since departed the scene. Despite returning to the line-up Dodd is clearly not at the stage where goal-kicking is without risk so responsibility passed on to Percival. His last stint in the role ended with a severe loss of confidence. He is a reluctant participant in the role. This was by no means a gift two points under the circumstances even before consideration is given to the weather conditions. Yet Percival shrugged all that off to nervelessly stretch the lead to 12-0. It would prove crucial

Its importance was starting to show just nine minutes later when the Panthers finally got on the scoreboard. Again it was Cleary at the centre of things. His angled kick had Saints in trouble on the right edge of their defence and although he won the race to the ball ahead of Fijiian starlet Sunia Turuva Welsby could neither ground it nor bat it dead. Instead it fell kindly for Tago to touch down. Cleary is among the best goal-kickers in the game and he quickly reduced the arrears to one converted score at 12-6.

Were the wheels starting to fall off the Saints wagon? You might have thought so looking at their next significant attacking raid. That ended with Dodd caught in possession on the last tackle. It was a rare example of a real lack of organisation in the Saints attack. A reset was required. At that stage it seemed unlikely that Saints would hold on if they couldn't post any more points in the time that remained.

They could, and arguably should have done so just before the hour mark. After a set restart Roby and Lomax again combined to find Welsby wide on the right. His pass to Hopoate allowed the former Canterbury Bulldog to step inside Crichton where an open line awaited. However, Klein and his touch judges ruled the pass forward. It was a questionable call and an agonising one. Not a terrible one. Perfectly understandable whether we agree with it or not. But it was an agonising call nonetheless. A try there would surely have crushed the spirit of the Panthers despite the improvement they had shown since the first half.

There were spurned chances at either end before the contest entered rhe last 10 minutes. If Saints could even just pop over a one-pointer to go two scores clear it would seal the win. The title. The glory. The first opportunity fell to Lomax. Curiously, Saints opted to set up with Lomax stood well wide of the posts on the right as he looked. As a consequence he was unable to adjust enough to find the mark. The Panthers breathed life.

A big shot by Mata'utia on Cleary stamped out an immediate Panthers response and capped a mammoth all around performance by the Saints back rower. His 175 metres with ball in hand was bettered only by Alex Walmsley and Curtis Sironen (both 183) on the Saints side and it came with 21 tackles. Several Saints had more with Roby topping the count with 50, but few hit harder and caused more turnovers than the former Newcastle Knight. A tip of the hat too to McCarthy-Scarsbrook (Scarsbrook-McCarthy?) who chipped in with 40 as the two oldest members of the Saints squad put in the busiest defensive shifts.

That Mata'utia shot forced an error which allowed Saints another crack at the final dagger of a drop-goal. This time it was Dodd who took responsibility. It may or may not have gone over. It was pretty hard to see from the angles we were afforded by the TV coverage and I don't believe it was ever clarified by apparently the greatest broadcaster who ever lived Andrew Voss. It didn't matter. The result of the play was a penalty to the Panthers as Saints were pulled up for using blockers side by side to prevent any attempt to charge the kick down.

To the letter of the law Klein may have been right. The issue I have with the call is that it has not been seen that way since 1895. It surely does go on. Saints have not patented this technique since the end of last season. Yet Klein chose that moment to enforce it. It was an incredibly fussy, smart-arsed call by the former Super League referee. It all felt a bit like getting pulled up for taping the charts with Tommy Vance on Radio 1 on a Sunday night in the 80s. If Klein had afforded the same attention to detail to the cleanliness of the ruck and to the 10-metre offside rule we would not have had much of a spectacle.

There was worse to come for Saints. There was little more than a minute left by now and the time had come for desperate measures by the home side. Somehow Crichton found himself in charge of Hail Mary operations on the last play. He hoisted a kick preposterously high into the Sydney night sky and hoped. As it came down Welsby knew that he was one catch away from ending the argument. One catch away from adding a world title to his three Super League titles and his Challenge Cup winners medal. It was a catch he did not make.

Instead the ball squirmed through his arms and bounced away. It fell for Lindsay Smith who quickly shuttled it out to To'o who was never going to be stopped. It seemed like a quiet night for To'o until then but in actuality he'd already racked up over 160 metres. I guess that is a quiet night for a man who regularly tops 200. Just not quiet enough at that stage.

Still we had hope that Cleary would fluff his lines with the conversion. That we would hold on by those early second half points so coolly slotted over by Percival. Maybe Cleary would be abducted by aliens or suffer some tragi-comic slipping episode by which he could be defined forever by one-eyed morons. Like Steven Gerrard. Cleary did not slip. No aliens visited. Instead he nonchalantly forced extra time.

Extra time. A five-minute period after which - if the scores were still tied - the game would go on untimed until somebody registered a point or more. Which I still can't really wrap my head around. If the next point wins throughout and come what may then what exactly is the point of timing the first five minutes? I suppose the pertinent question should actually be who in their right mind would question the rugby league authorities and expect to get a sensible answer?

Into the pointlessly timed five minutes we went. Time for an other vital and icy veined contribution from Percival. He didn't look all that calm when he flapped at Cleary's towering bomb right on the Saints line. It bobbled into the in-goal area where Percival looked certain to be trapped. Instead he skipped and weaved past the chasers like he was weaving past the kids in the garden, just managing to get back into the field of play. A goal-line dropout at that stage would likely have ended with a mid-range Panthers drop-goal attempt at the very least. They don't all wear capes, Mark.

We were back in the normal pattern of completed sets for a short time. A pattern abruptly ended when Hurrell and Sironen combined to wallop Crichton with enough force to dislodge the ball from the grasp of the Penrith man just 30 metres from his own posts. Saints wanted a penalty after a Panthers player in an offside position picked up the loose ball. They challenged Klein's ruling. Replays showed that after coming free from Crichton the ball had flicked off the back of Hurrell before it was gathered up by the offside player. That touch of Hurrell negated the offside. Challenge unsuccessful.

Yet the chance remained. A scrum 30 metres out was almost as good as a penalty given that only a drop-goal was required. There was no need to be a soothsayer to know what the tactics would be. Learning from the earlier mistakes Saints drove it straight up the gut through Mata'utia, Bell and Walmsley. Ten metres out, who else would you rather have at dummy half ready to sling it back to the 20 to a waiting Dodd, bang in front? James Roby. The captain's pass was on the money. There was no wall of blockers this time as Dodd drew back that left foot and sealed the deal as if it had never been in doubt. Not exactly the unthinkable but certainly the improbable. Saints were - are - world champions.

The celebrations were suitably wild, the despair on the faces of Panthers players real as the stadium began to empty. The Panthers were magnanimous and respectful on the whole. Yes, a few players focused on their own mistakes but who doesn't do that after a defeat? We shot ourselves in the foot is one of the most common phrases used by players and coaches in most sports. Don't take it as a lack of respect or an attempt to demean the achievement. It's not. Saints have earned the respect that Roby emphasised was one of their goals coming in to the clash.

And. They're world champions.
Copyright © Saints Heritage Society 1999-2023.