James Peters

OVERALL STATISTICS

BIRTH
AGE
SIGNED ON
FROM

07-08-1879

N/A

17-11-1914

Barrow

DEBUT
LAST MATCH
LEFT

21-11-1914 v Dewsbury

Warrington

1914-

CAREER
APPEARANCES (SUBS)

1914-1914

2 (0)

TRIES
GOALS
DGOALS
PTS

0

0

0

0
Biography of James Peters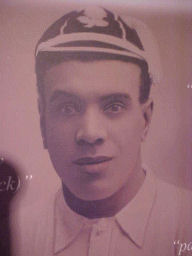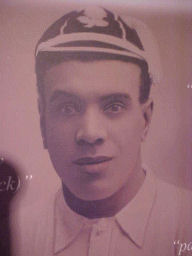 HERITAGE NO : 242

James Peters by Dave Dooley:
During the Summer of 2003, the Saints Heritage Society was contacted by the Rugby Union Museum at Twickenham, relating to possible information about a Saints player, James Peters. He made two appearances for the club in the 1914/15 campaign and relatively little was known about him. Indeed, his significance in "rugby" history was soon to become highlighted, with a major exhibition of his career at the Museum of Rugby at Twickenham.

His early life is shrouded in mystery, but a few details are known. He worked with his family as a circus bare-back rider and his brother was a clown acrobat. His father died in a lions cage and at one stage, his mother transferred him to another circus troupe. James broke his arm in an accident aged 11 whilst the circus was in southern England and being of no further use was abandoned. A kind lady in Dorset sent him to the Fegans Orphanage in London where he spent most of the 1890s and learnt carpentry skills.

He moved back to the South West and also began to play rugby, first for Bristol, then for Plymouth! Peters soon made a name for himself as a fly-half and was selected for his county, Devon. International selection soon followed and Peters first game for England, against Scotland in March 1906 was an unexpected victory - their first for two years! James even managed to score a try for good measure! For a first international, the Dusky Plymouth man did many good things, especially in passing. He was very popular in the town and the Plymouth Football Herald selected him as their Man of the Year in 1907/08. They were kind enough to decree that:"..although not of our complexion, Peters may accept the compliment that we regard him as a white man."

Selection for club, county and country was always controversial because of his colour, however. The 1906 Springboks refused to play when he was selected against them! In 1909, Peters lost three fingers in a serious accident at work in the Royal Naval dockyard at Devonport.

He then tinkered with Northern Union and was signed by Barrow and later by the Saints, for whom he played just two matches in 1914/15. From his amazing early life, James Peters reached the top in Rugby Union and is, in retrospect, very much a pioneer for sport in this country. It would be many years before Association Football, for example, would have its first black representative - Viv Anderson.

Needless to say, we are indebted to the RFU and Tony Collins, at Red Hall, for providing this information for us; yet another unusual facet of the Saints history previously forgotten for several generations.

In his working life James various occupations included Circus Worker, General Labourer, Dockyard Hand, Publican and Carpenter. He was resident in Coburg Street, Plymouth in 1939 and it would appear that he settled in the town for the rest of his life. He died in Plymouth in March 1954 at the age of 74.
SEASON STATISTICS

Season (Official Matches)
Tries
Goals
DGoals
Matches
1914~15
0
0
0
2
TOTALS:
0
0
0
2
Season (Other Matches)
Tries
Goals
DGoals
Matches
TOTALS:




ALL MATCHES
| Date | Match | | Pos | Opponents | Comp | Venue | FT | FTO | T | G | DG | |
| --- | --- | --- | --- | --- | --- | --- | --- | --- | --- | --- | --- | --- |
| 21st Nov 1914 | 1 | W | 7 | Dewsbury | L | H | 26 | 16 | | | | VIEW |
| 28th Nov 1914 | 2 | L | 7 | Warrington | L | A | 6 | 15 | | | | VIEW |
*Unofficial Match. **Non Playing Sub.
WINS : 1 | LOSSES : 1 | DRAWS :